IFED Conference Instanbul 20-21 Sep 2022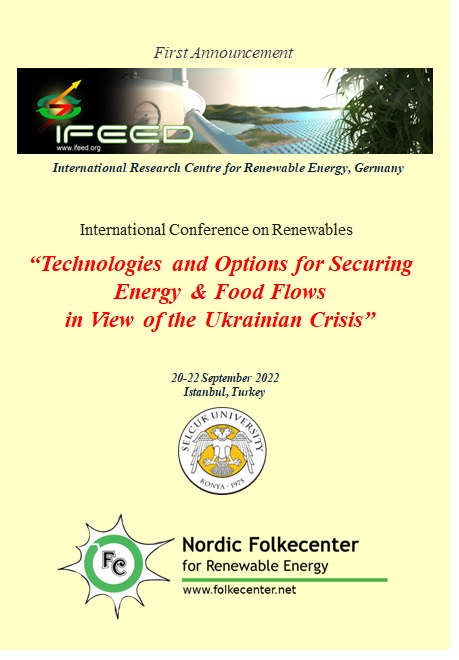 Presentation on IFED International Conference on Renewables 2022, 20-21 September 2022, Istanbul, Turkey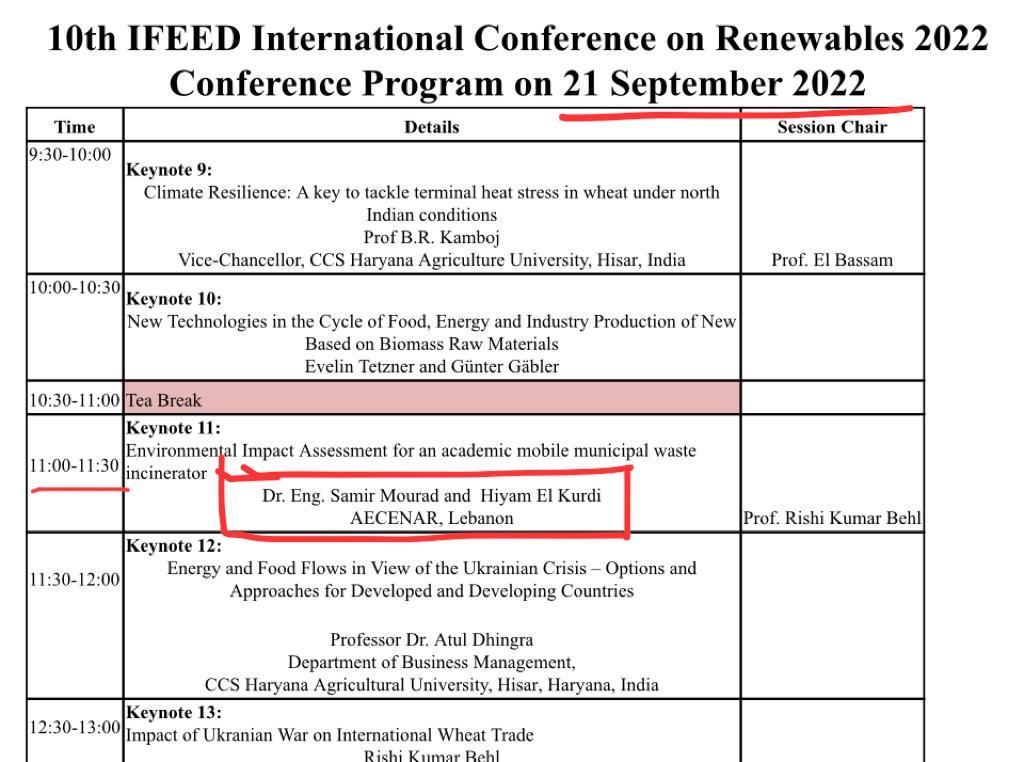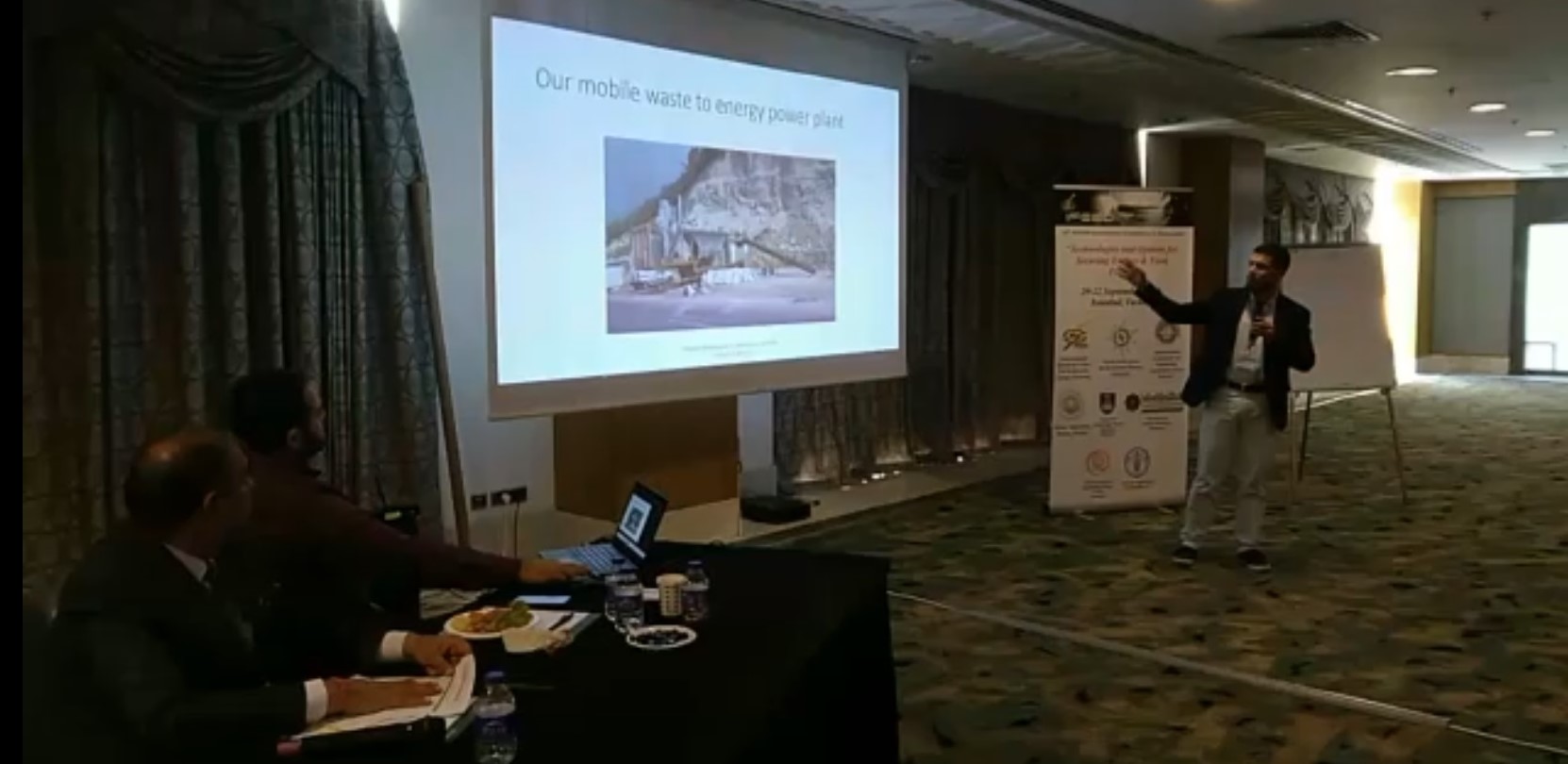 EIA presentation Turkiye (.pptx)
EIA presentation Turkiye (.pdf)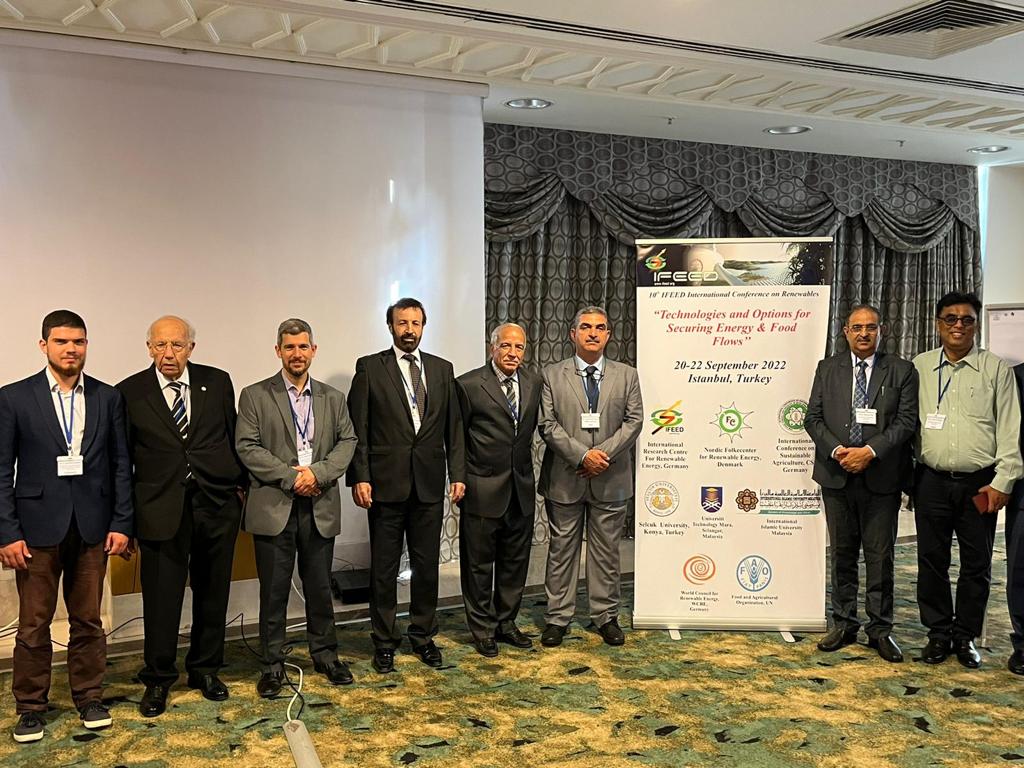 At the end of the conference: second from left: Prof. Bassem (head of organisation team)
ندوة في اﻟﺮاﺑﻄﺔ اﻟﺜﻘﺎﻓﯿﺔ – طﺮاﺑﻠﺲ-لبنان في 12\8\2020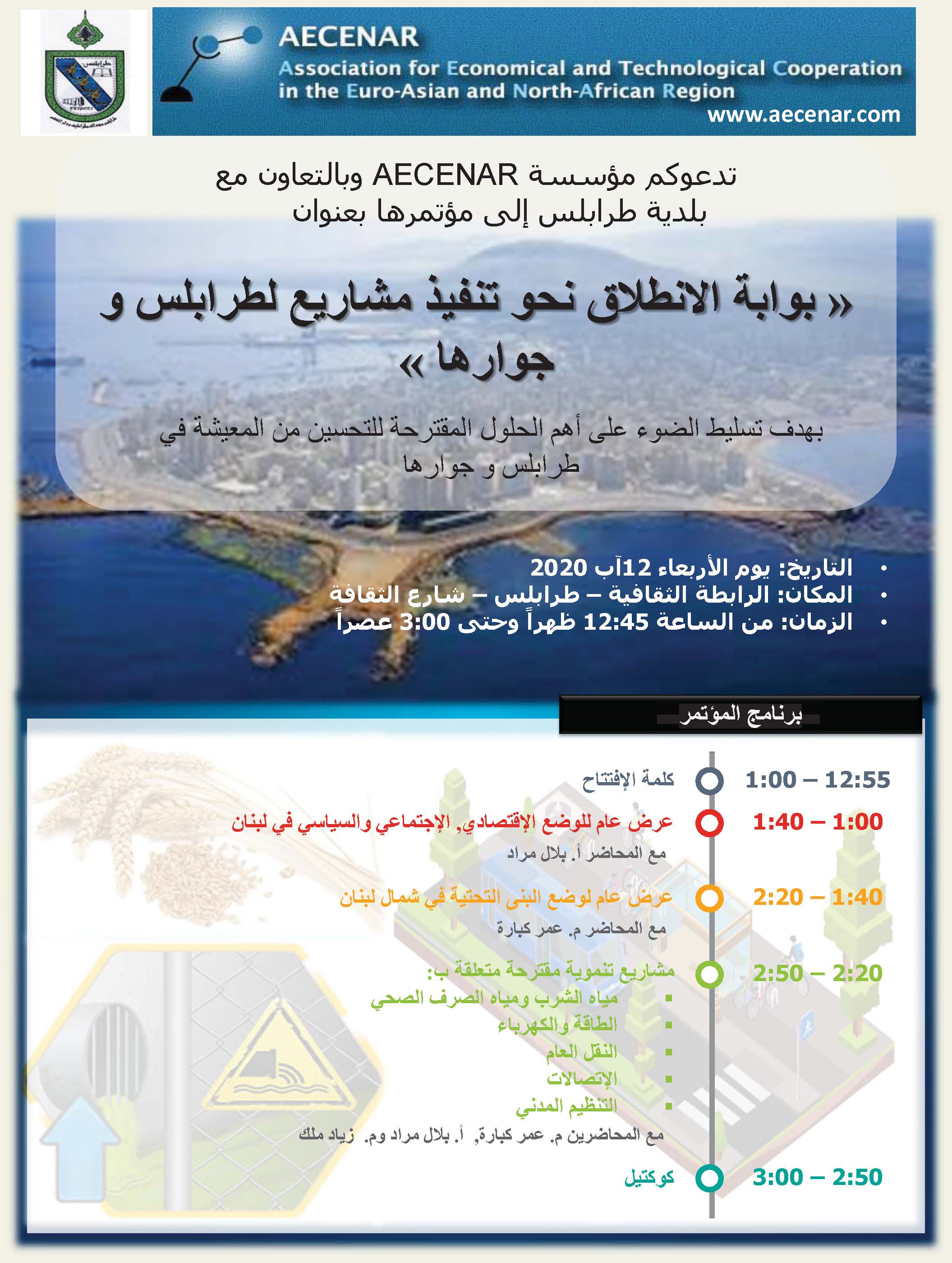 بدعوة من مؤسسة aecenar وبالتعاون مع بلدية طرابلس تم عقد مؤتمر بعنوان بوابة الانطلاق نحو تنفيذ مشاريع لطرابلس و جوارها بهدف تسليط الضوء على اهم الحلول المقترحة للتحسين من المعيشة في طرابلس وجوارها وذلك في قاعة المؤتمرات في الرابطة الثقافية طرابلس بحضور ممثل عن بلدية طرابلس الدكتور باسل الحج و اخصائيين ومهتمين وناشطين في العمل المدني والتنموي والاجتماعي ، بداية بالنشيد الوطني اللبناني ثم تحدث الاستاذ بلال مراد تحت عنوان الوضع الاقتصادي والاجتماعي والسياسي في لبنان تلاه الاستاذ عمر كبارة والاستاذ زياد ملك متناولين وضع البنى التحتية في شمال لبنان والمشاريع التنموية المقترحة والمتعلقة بمياه الشرب ومياه الصرف الصحي، الطاقةوالكهرباء، النقل العام، الاتصالات والتنظيم المدني، كما كانت مداخلات متعددة حول المواضيع المشار اليها اضافة الى مداخلة حول دور مرفأ طرابلس في النهوض بالاقتصاد اللبناني خاصة بعد الكارثة التي وقعت في بيروت.
from:https://alfayhaalb.com/?p=24154
        https://www.alwifaknews.com/archives/40165
 

 ممثل عن بلدية طرابلس الدكتور باسل الحج

Eng. Omar Kabara  (left),

Bilal Mourad (right)

Bilal Mourad

Eng. Ziad Malak 
ندوة في غرفة الصناعة والتجارة طرابلس-لبنان في 13\3\2019 
(Conference at Chamber of Commerce, Industry & Agriculture of Tripoli & North Lebanon, 13.03.2019, 16.30-18.30)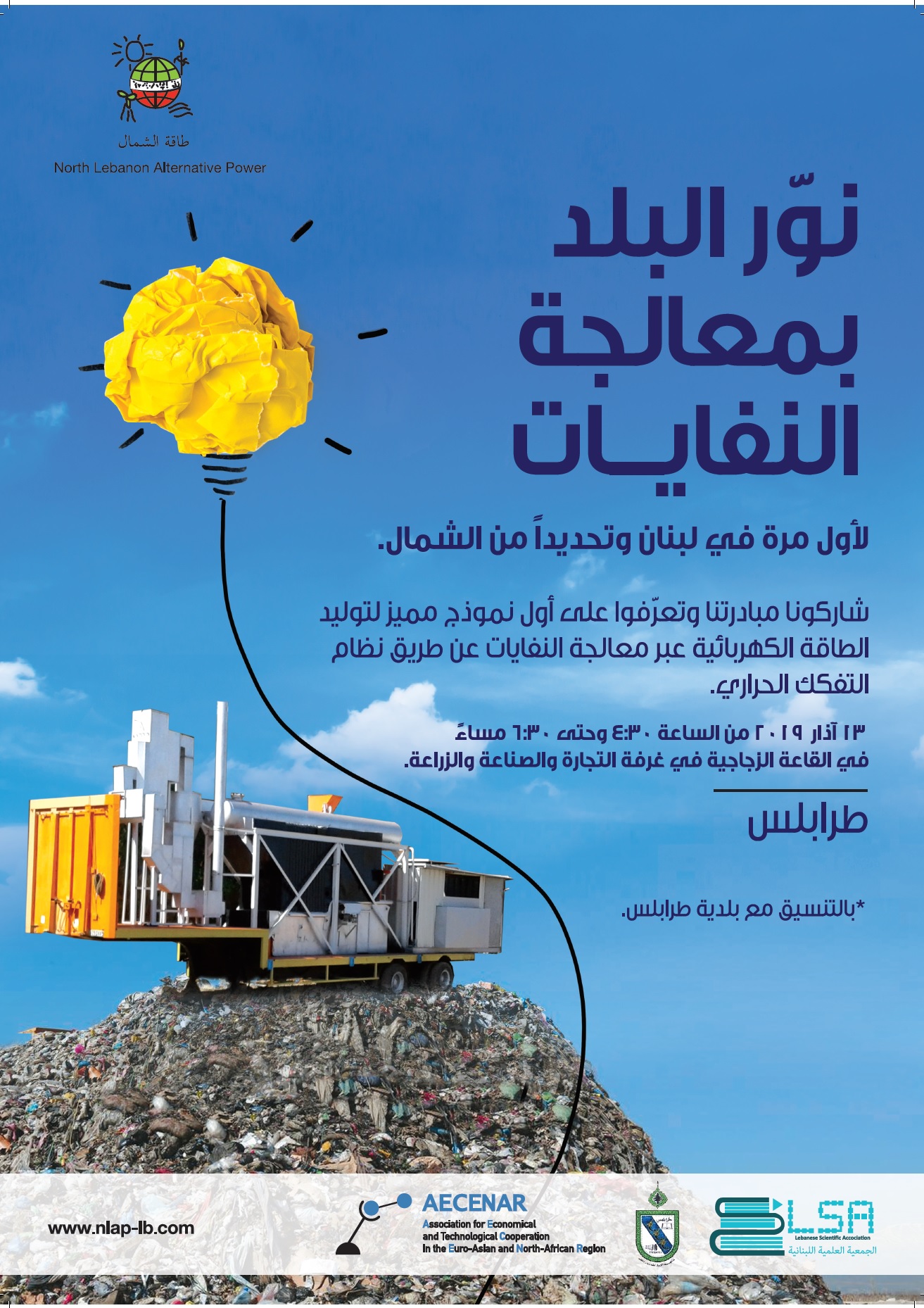 Report:
بحضور رئيس بلدية طرابلس السيد أحمد قمر الدين والعقيد عميد حمود والنقيب محمد عوض ممثل العميد كرم مراد رئيس فرع المخابرات في الشمال وعدد من الاساتذة الجامعيين من مختلف الجامعات في الشمال، واختصاصيين بيئيين، وعدد من الطلاب الجامعيين، وفعاليات اجتماعية وسياسية.
تم اطلاق مبادرتنا "نوّر البلد بمعالجة النفايات" يوم أمس في غرفة التجارة والصناعة والزراعة في طرابلس.
بدأ الكلام مدير شركة طاقة الشمال المهندس الدكتور سمير مراد مرحبا بالحضور طارحاً اشكالية الأزمة المزدوجة التي تعاني منها طرابلس وسائر مدن وقرى لبنان "غرق في النفايات وعجز في الكهرباء"، ثم قدم المهندس زياد ملك عرضاً مفصلاً لنموذج محطة الطاقة التي تستخدم النفايات كوقود لإنتاج الطاقة الكهربائية الموجودة حاليا في رأس مسقا، شارحاً أبعاد المشروع ومبيناً قيمته المادية والبيئية وفعاليته ومساهمته مع الأفكار والمشاريع المقترحة بإنقاذ طرابلس من أزمتها.
وقد تخلل العرض مداخلات واستفسارات الحاضرين .
بارك الله بمن حضر ونفع الله بنا وبكم.
| | |
| --- | --- |
| | Dr. Eng. Samir Mourad (CEO NLAP) |
Eng.Ziad Malak (COO NLAP)

Ziad Malak (left),

Mr. Ahmad Kamareddine, Major of Tripoli
____________________ 

Other presentations (Please click)
____________________ 
Presentation of AECENAR Projects at Engineering Faculty of Lebanese University, Kubbe/Tripoli, 11 Nov 2015
Presentation slides (please click for power point presentation)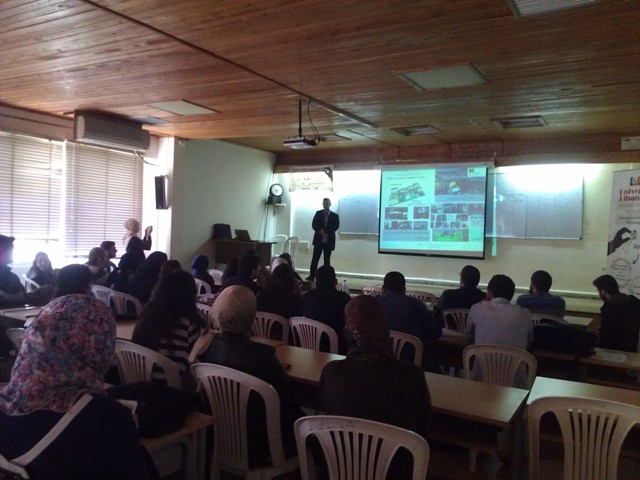 Planned:
---------------------------------------------------------------
TECDA Conference 
بناء لبنان الشمال
Jan 2016, AECENAR/TECDA Center Ras Nhache/Batroun
---------------------------------------------------------------